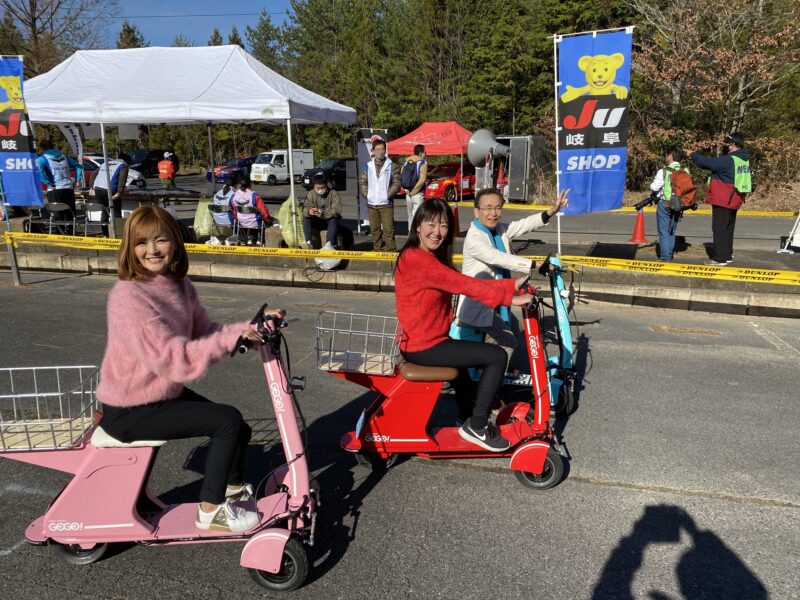 You might imagine that most in Japan live in dense urban cores – walking from their homes to the supermarket, taking a train to anywhere a little far away. While that might be true in Japan's major cities, it's often not so in regional urban centers. In places like Shizuoka City and Kasugai City in Central Japan, it's not uncommon for people to rely on buses, taxis and bicycles to reach even the closest supermarket or convenience store. But the pandemic drew attention to the risks of public transportation, where social distance is hard to achieve.
That's where race-queen-turned-champion and car lover Keiko Ihara stepped in. In Kasugai City, she saw that local businesses were suffering as people followed Stay Home orders. They had to make a choice between getting on crowded public transport to visit their usual spots or staying at home and staying safe. After stepping back from her career in racing, contributing to causes like women in motorsports along the way, she was ready for her next challenge. COVID-19 made the social need for safe and flexible transportation even more obvious.
Competing in her first international race in 1999 and first ever global endurance race in 2012, over the years, Keiko has contributed to global racing teams' results the world over. She realized she needed to focus on the opposite of racing: optimizing safe travel at shorter distances – in other words, micromobility.
Keiko's experience contributing to the design and development of automobiles for global manufacturers also gave her a sense of what the task involved. She put her team together from her automobile industry network and they developed a lightweight electric-powered trike in rapid time.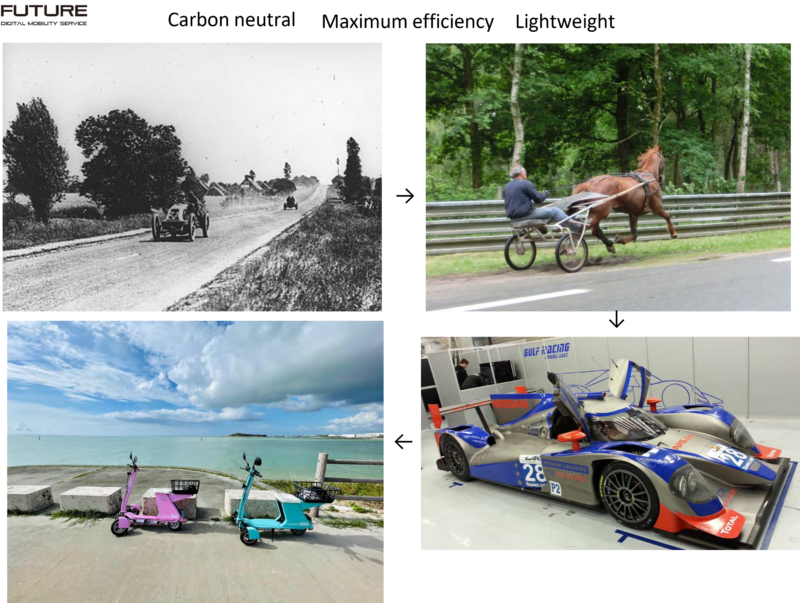 The first trike developed was named Gogo! S, and featured two wheels in the front and one in the rear with a well-hidden battery placed to maximize stability. Travelling up to 50km on one charge, one could easily get a day's errands done with just the trike. As you might imagine, the suspension isn't just your run-of-the-mill variety – the multi-link suspension is currently patent pending. The trike also contributes to reduction in greenhouse gas emissions compared to traditional scooters. In fact, its battery only costs about 10 yen to fill up – just one-tenth the cost to run a scooter the same distance.
In June 2021, the trike ventured into society for the first time, when a hub was created in Kasugai City. A partnership with NTT Docomo allowed Future to leverage NTT's sharing platform device, which includes an electronic lock and Wi-Fi to connect to the cloud system managing the shared resource. Future now offers 5 types of electric trike and one fat-tired electric bicycle designed for sports and regular use.
The trikes have already been tested widely across Japan. Projects in Tokyo and Kasugai City, Aichi Prefecture offer the trikes to residents and visitors along with the accompanying app. Without leaving the app, riders can track their trip on the trike, check out tourist information, and plan the next place to go. For Kasugai City, Future took the app one step further, adding functions that assist food delivery drivers, make reservations at stores and restaurants, and offer coupons and local information. Future calls this the "servitization of shared mobility."
The trikes have even gone as far as Okinawa, where users can hop on after just scanning their credit card and driver's license in-app to zip to beautiful beaches and lovely cafes.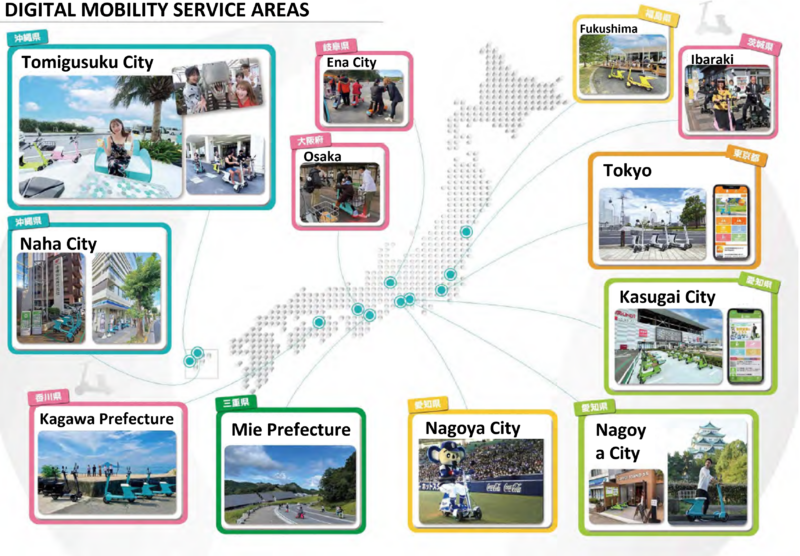 Like many other mobility-focused startups, Future got its start in Central Japan, home to automobile industry hub Nagoya Prefecture and manufacturing hub Mie Prefecture. Keiko spent time as a child and, later, as a racer in Aichi Prefecture. Future's development lab is located just a 6-minute car ride from world-famous Suzuka Circuit, where Keiko burned rubber on her way to stardom.
"To me, Aichi Prefecture is the center of Japan," Keiko explained in a video interview from her home in Kasugai City. Behind her, a multitude of trophies sparkled around her head, as if reconfirming her status as royalty in racing.
While it might seem that success came to her easily, that's not the case. After Keiko decided that fateful day to try racing herself, she also was convinced that Japan, even with its rich racing history, was not the place to establish herself due to the boy's club atmosphere in the industry. So Keiko left Japan to train in Europe, then competing in races all around the world.
"I am a challenger," Keiko explains. Like many successful entrepreneurs, she is goal oriented and works tirelessly for success. But building a company doesn't come without setbacks. For her, endurance racing isn't far off from entrepreneurship. "Sometimes, when you're not in good shape, you just need to eat and sleep it off. Then you get back on the track. Act like an athlete." Keiko explains. "That, and you need a good support team."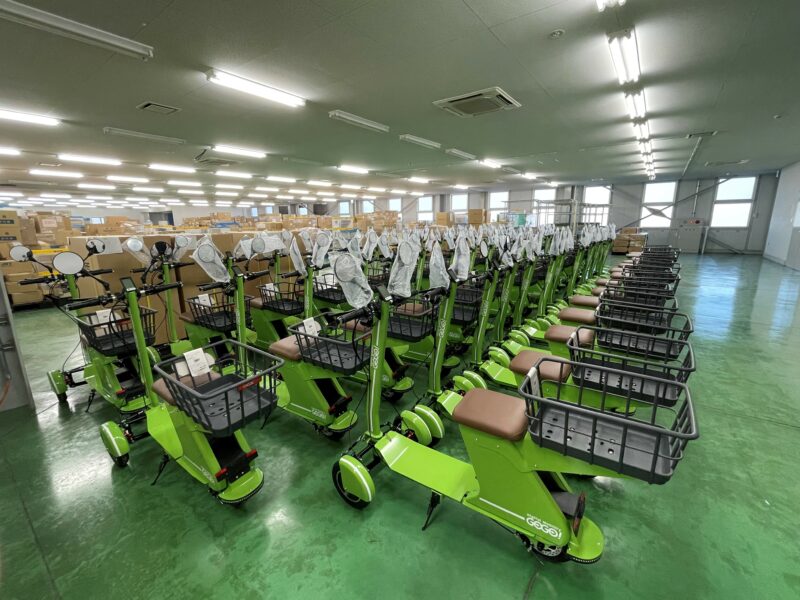 Central Japan is Future's support team, of sorts. Future located its assembly plant in Nagoya City, a major city in Central Japan. "It's got a great supply chain because manufacturing is the lifeblood of industry here," Keiko explains. There is also a steady supply of talent with automobile-related experience, who she can bring on flexibly to help with increased demand. But the region does need a new type of talent, she says. "We need those who can create and maintain digital communication tools. These are the heart of digital mobility."
What does Keiko Ihara, who raced in countries around the world, think about where to start a business in Japan? "You can launch your business anywhere. And actually, I've never thought of Tokyo as being more advantageous than here," Keiko says. "It's more important to find something you like and pursue that. After all, how will you endure the ups and downs of entrepreneurship if you don't like what you do?"